Oil Palm Pedestal
---
Art | 2020
Oil Palm Pedestal is the first concept in a developing series of works that examines the impact of the oil palm industry on the environment, the wealth it has created, the destruction it has caused, and the industry's overall cultural influence in our daily lives.
Classical forms and a rigid visual hierarchy achieve a formal design methodology that is similar, if not identical, in approach to the classic civic plaza design and art installations of Western civilization.
However, instead of classical references towards humanity's conquest of nature, the work's focus reverses that: a palm atop a Corinthian column, celebrating our complicated relationship with this plant and all that it has given and all that we have taken.
Quartz | Nephrolepis exaltata | Aluminum | Paint
*Upon realization of this series of work, proceeds will go towards reforestation and education efforts surrounding the impact of the palm oil industry on our environment.
Cliffside Stack
---
Art | 2020
Cliffside is a sculptural planting series utilizing stone and modern shapes to create a bold contrast between natural and human-made.
In Cliffside Stack, granite and painted aluminum with a variety of textured finishes work together to create a stunning and complementary combination of textures and colors.
Adding life and upward expression, the Aloe and Agave shoot from their planter's form. The planting combines with the stone and metal forms to create a range of tactile and visual experiences.
White Granite | Painted Aluminum | Aloe | Agave
Oil Palm Pool is the second concept in a developing series of works that examines the impact of the oil palm industry on the environment, the wealth it has created, the destruction it has caused, and its overall cultural influence on our daily lives.
Classical forms and materials combine with pops of color and shape to achieve a familiar yet haunting environment. Bright palms and ferns surround a pool of red liquid to create a surreal visual environment that jars the senses and upends our understanding of the classical luxurious pool and spa.
It's this contrast between traditional and modern, nature, and commercialization that creates a memorable experience and an opportunity to question the value that ceaseless palm oil production has had in our world.
White Quartz | Ceramic Tile | Nephrolepis exaltata | Aluminum | Paint | Water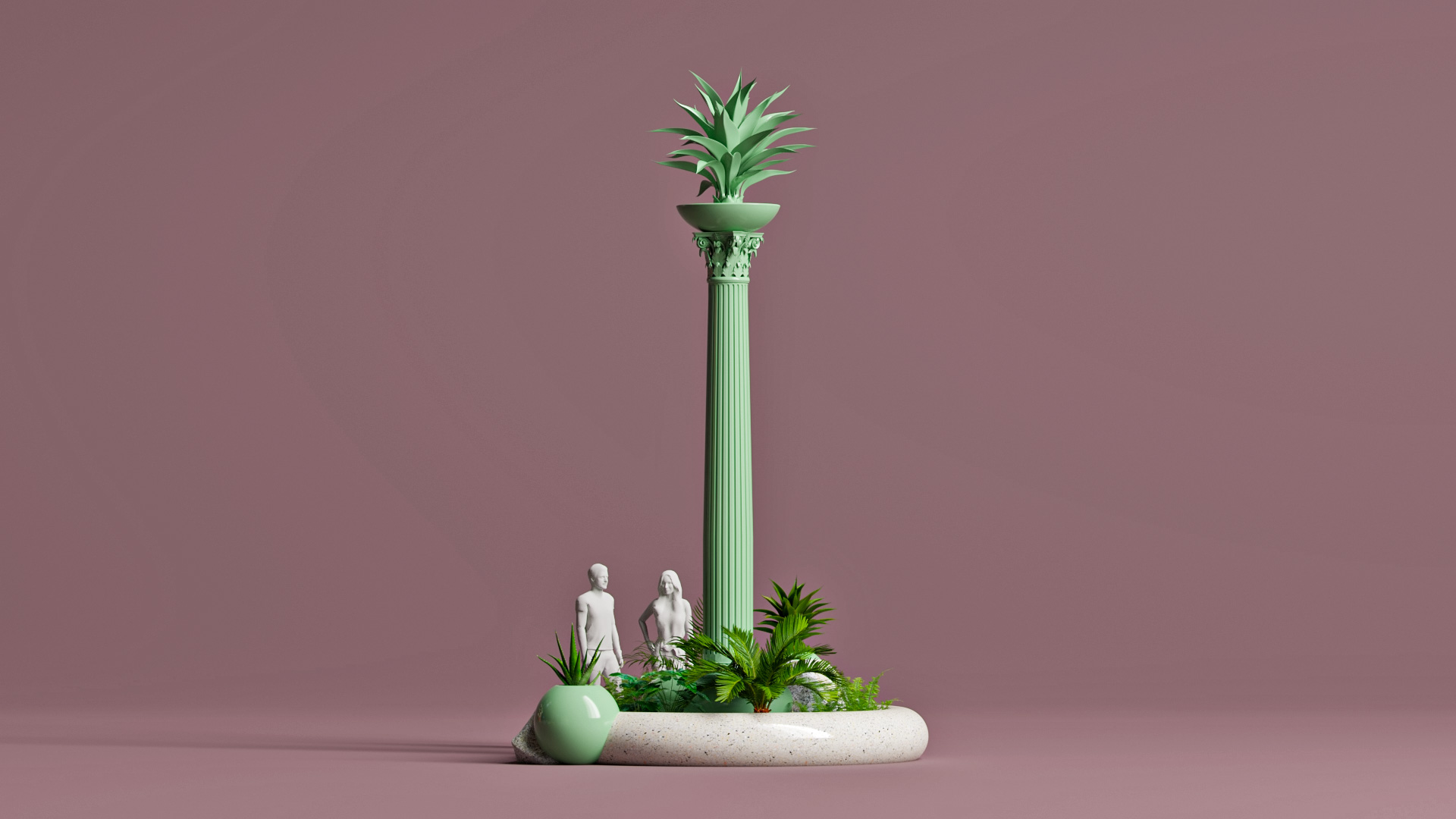 'Hola, Aloe,' was a concept submitted for a public art project in Mexico City.
Inspired by classical monuments to art, history, or religion, this sculpture exchanges those influences for the powerful symbolism of an ornate column adorned instead by planting - elevating nature, and our relationship with it, above all else.
Plants, such as a palm tree on a beach, have the powerful ability to transport us to a moment or a place immediately. With this in mind, Studio Hai proposed to use the story and traditions surrounding Aloe to transform the experience of the civic landscape:
Aloe vera
The unsung superhero of Mexico! Widely naturalized throughout the country, Aloe is used for a variety of purposes and holds unique cultural superpowers useful for the proposed new development: when adorned with red strings and placed at the entrance of a home or business, the Aloe vera plant has the renowned capability to absorb or deflect evil spirits, keeping all those who enter the development happy, prosperous and safe under the protective veil of the Aloe plant.
Therefore, as part of the overall composition of the artwork, Studio Hai proposed to create a planter specifically for an Aloe vera plant to be adorned, cared for, and celebrated by visitors and residents alike.
By utilizing materials, flora, and stories familiar to the region, Studio Hai's proposal was inherently elegant and timeless in composition, while also appropriate in scale and material.
Just like nature.
Quartz | Granite | Aluminum | Paint | Various plant species
Plastic Beach is the first in a series of works that address the catastrophic amount of plastic pollution in our environment.
The goal of these works is to use a plastic-like finish on a variety of flora and fauna to raise awareness of the impact and pervasiveness of plastic pollution in our lives.
Surreal compositions of palms, sand, and water finished in a dull plastic sheen create a highly manufactured vignette that references both the commercialization of our shorelines and the potential future of what our environment could look like once they saturate in plastic.
Aluminum | Paint